Description
The innoVolta IVP361866-1S483PCB battery pack is designed with great care for application categories like "General Purpose",  "Security Equipment", and "Inventory Control Device".
The innoVolta IVP541866-1S483PCB battery pack is made of the AmeriBatt NMC18650-24EL authentic premium cells. The real time tested cycle life of the individual cell is over 1,700 deep cycles (please refer to the test chart below). Li-ion energy cells from the name brands (i.e. Panasonic, Sanyo, Samsung, LG) only last for about 500 cycles. Triple lifetime capacity is at your disposal if it is contrasted with other packs made with 500-cycle cells.
With the premium high capacity energy cells, we still need to match each pair of cells before the assembly so that the whole battery pack can achieve consistent long life feature.  At innoVolta, we uniformly test every cell, closely match them in-house, and assemble the well matched cells (i.e. mass production capability with bin range as narrow as 20 mAh for capacity bins and 2 mOhm for ACIR bins) into the branding innoVolta battery packs. We proudly assemble the innoVolta battery packs in the USA. Most of other battery pack manufacturers are unable to do the in-house cell matching. They assume that all cells packed inside a box are all matched, which may not be true because even authentic cell manufacturers may loosen their cell matching specification (i.e. with bin range as wide as 50 ~ 60 mAh for capacity bins and 6 ~ 9 mOhm for ACIR bins) to consolidate the stored cell residues from several production batches. It can be even worse if smaller quantity can't be purchased directly from the authentic cell manufacturers, the boxed cells can be further compromised through the supply chain. Some distributors may not have proper warehouse conditions to protect their cells in storage from being rapid degrading. They may further assort the residues of several  inventory batches into one box to ship. All these compromised quality issues are completely prevented at innoVolta.
With the built-in PCB/PCM, you are free of any worry about an unexpected explosion resulted from an external short circuit to this battery pack. The IVP541866-1S483PCB will cut off its output power when the output current rises above 3.0 A (or 3.3 A typical). Besides the short circuit protection, it is also featured with the over-discharge and over-charge protection.  Thus, you may use this battery pack with peace.
Not like a normal battery pack made with flying leads, we assemble the IVP361866-1S483PCB battery pack with a pair of the popular JST XH-2 connectors for your convenience. The JST XH-2 connectors are polarized. You just solder the polarized pin header on your printed circuit board with right polarity one time and you will never worry about damaging your electronic device by an accidental applying the battery power in wrong polarity. If you like to specify your own connectors, we will make it to your specification.
Specifications
Brand: innoVolta USA
Model: IVP361866-1S483PCB
Capacity: 4,800 mAh (please refer to the Real-Time test chart below)
Energy: 17.8 Wh
Nominal Voltage: 3.7 V
Standard Charge Current: 2.4 A (

must use CC/CV charger with 1S setting

)
Short_Circuit Protection Delay: < 50 micro second ( 5 micro second typical)
Over-Discharge_Current Protection: 3.0 A (3.3 A typical) cut off
Over-Discharge Detection Voltage: 2.4 +/- 0.1 V
Over-Discharge Release Voltage: 3.0 +/- 0.1 V
Over-Charge Detection Voltage: 4.3 +/- 0.1 V
Over-Charge Release Voltage: 4.1 +/- 0.1 V
Battery Pack Size (norminal): 36.5 mm Wide * 18.3 mm High * 66.5 mm Long
Weight: 90.5 g
Connector: JST XH-2 female socket and male pin header (other type of connector may be specified)
Wire: Red/Black, 4″ long, UL 1007,  22AWG, 80 degC, 300V, VW-1
Engineering Test Charts
Real-Time Deep Cycle Life Test (Cells)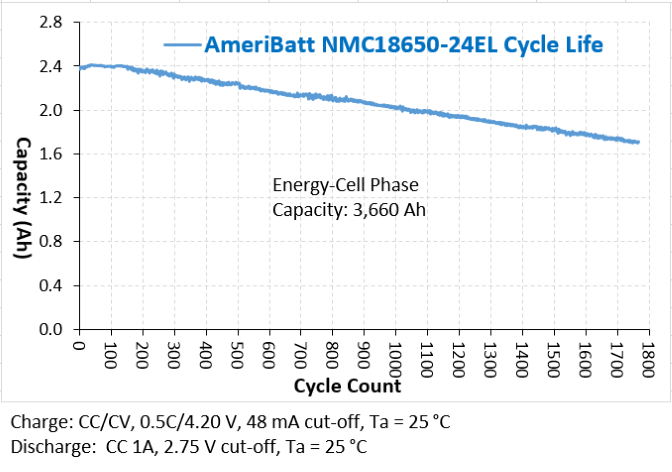 Real-Time Discharge Test (Packs)